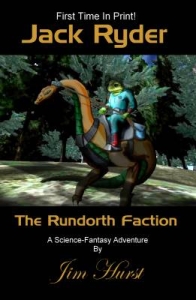 Illustrated
Large Trade Paperback: 152 pages
Product Dimensions: 9.0 x 6.0 x 0.4 inches
Publisher: Lulu Press (May 13, 2005)
Language: English
ISBN: 1411625757
Jack Ryder - The Rundorth Faction
A novel written and illustrated by Jim Hurst
Jack was just an ordinary thirteen year old boy who grew up in a space freighter, but an attack by space pirates set him on a course toward a confrontation against the pirate faction leader himself: Rundorth. A clean, fast paced adventure that readers young and old will enjoy.
Free Preview: Read the free preview (Adobe pdf) of the first three chapters!
Getting Your Hands On A Copy
1: Signed Copy
The only way (if you're not local) to get a signed copy is for me to mail you one. I'll even throw in a free DVD of the movie Star Quest. Click Here for more details.
2: Order at your local bookstore (ISBN: 1411625757) Another way to get your hands on a copy is to walk into your local bookstore and order a copy over-the-counter. You will need the book's ISBN number 1411625757 to place the order.
3: Order Online at BarnesandNobles.com or Amazon.com, and Booksamillion.com. For a complete list of over 30 online stores that you can order from, go to www.bookfinder4u.com.