Final Tests
8/25/07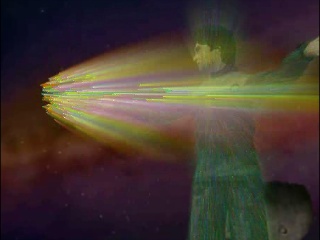 Completed the final movie tests using particles and chroma key. As to beginning pre-production of the Jack Ryder movie, it will begin once child/teen characters are available for Moviestorm.
Until then, I will produce a few movies unrelated to the project, and I have a lot of home projects to complete as well. Expect the next update late Sept. 2007.
Even More Progress
8/10/07
Was directed to a thread that confirmed work being done on child/teen characters:
"We are already onto these - but we have some work to do on new skeletons and bones so the animations will work. (reaching for door knobs, for instance)"
Back on track for a movie version of my novel. Woot!
Progress
7/30/07
Revdoug did some more work on the cone shaped robot called Paperweight: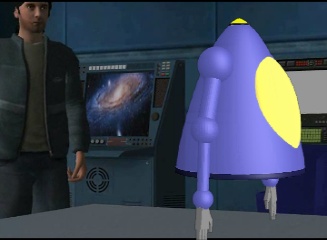 And, I played around with particle effects some more: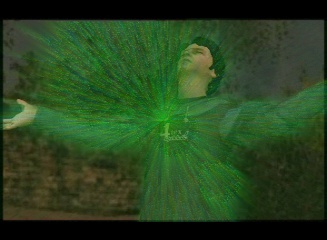 There is a very good possibility that child/teen characters may not be available at least a year or more after release of Moviestorm. This would prevent me from making a movie version of my novel.
However, I am leaning toward a series with Jack Ryder and his friends with events that happen after the book. Our heros are older now at 18, and though still young there are many adventures to come. More on this as events unfold.
Particles
7/24/07
The Moviestorm beta is going well. A lot more content is needed before I can even begin to start on the movie version of Jack Ryder - The particle Effect. Jack begins the story as a young 13 yr. old, and child characters are needed.
I just finished a particle experiment (below). It will not be the final version of particles, but I now know how to make them with Vegas Movies Studio:
Particle Experiment

Action! Need Action!
7/5/07
The Moviestorm Open Beta began with a new version of Moviestorm. I've been experimenting with animations and character interaction, and I see great potential for drama and character driven stories. Jack Ryer - The Particle Effect has lots of action, so I am hoping for future expansions to fill that gap.
There will be great relience on user created content such as sets, costumes, and props. Some created by myself, and others by the mod community. Hoping for pre-production to begin after New Year 2008.
First On The Team
6/14/07
Experimentaion with Moviestorm is going good. My main goal is to see how much character control I have, and by the looks of it... There is VERY much control. Much more to do, as Moviestorm is still in an early beta phase. But, there are great enhancements in the works by the developer Short Fuze.
Out of the blue, came a short video clip of one of the main characters: Paperweight.
Also a Moviestorm beta tester, revdoug created this great prototype robot for Jack Ryder - The Particle Effect Movie. I'm not going to be able to make this movie alone, and I welcome revdoug as the first of the team in the project. For his help, he received a free signed copy of the novel.
Thanks, revdoug! :)
Initial Phase
6/02/07
The novel Jack Ryder - The Particle Effect is complete. Now, Hursto Presto studios is planning the movie version. Currently in pre-production, we are experimenting with Moviestorm, the computer movie making tool by Short Fuze.
To the left are a few of the illustrations in the novel by Bill Webb. Moviestorm will require a lot of custom content to depict the same imagry, and this studio will endeaver to show the story as it was ment to be shown.
If you had yet to read the novel, you can read the Prologue and first three chapters Here.