The Movies game, a movie studio game developed by Lionhead, was a great tool to create Machinima. But, the animations were set in stone and product support was dropped.
Now comes Moviestorm by ShortFuse, a computer movie making program which takes Machinima to the next level of directorial control and graphic detail.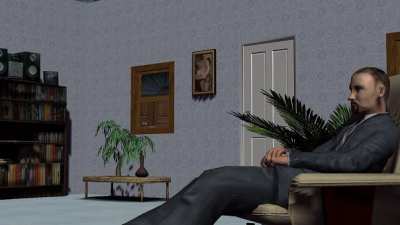 This studio had long wanted to make a feature movie version of our novel Jack Ryder - The Particle Effect, but The Movies game did not have the mechanics to do so. Now, with Moviestorm, it is possible.
Until then, expect some short filmed projects as this studio experiments with Moviestorm. All productions created with the previous software package (The Movies) have ceased to make time for experimentation and production planning for Jack Ryder - The Particle Effect. Click Here to read more about the novel.
How much will Moviestorm cost?
As posted at machinimafordummies.com:
Yes, we have a price for Moviestorm, the awesome, dedicated, commercially-licensed Machinima toolset that Short Fuze have been working away at for years now, and about which we have blogged effusively.
Itís going to beÖ Zero pounds, zero pence.
$0
No Yen.
Zilch.
Nothing.
Nada.
Zero.
Free.
Yes, itís free to download. Totally, utterly free. Without cost.
FREEEEEEEEEEE!
Can you tell weíre a little excited about this?
You might be asking ďhow the hell will they survive off that?Ē Well, the answer, I understand, is add-on packs. MovieStormís add-on packs will cost a few pounds/dollars each, and will add tons of new content. And the Short Fuze guys reckon that, by making the initial program free to download, they can get a huge userbase installing subsequent packages.
Itís a brave move. I donít know if itíll work, although the Short Fuze management team have more experience than I do, and they reckon it will. But itís darn fine news for Machinima creators anyway.
Oh, which brings us to point 2. Imagine if ďWord for DummiesĒ came with a free copy of Microsoft Word.
Thatís going to be the situation with Machinima for Dummies. Itíll come with a copy of Moviestorm right on the cover - everything you need to get started in Machinima, right there.
Rock and, as various people have said, roll.