My Motorcycle Adventure
Spring Approaches!
Feb. 20, 2009

Sorry for the lack of updates these past few months. Winter has arrived, riding slowed down, and I've been keeping busy working on some new movies.

The Toy Run was great! The day started out with rain, but cleared just 30 min. prior to the run. My daughter and I rode up to Red Springs and caught them just in time. A good 400 riders showed up, and the ride ended with my daughter receiving a Biker teddy bear as a door prize. Very cool!

I've got my first big ride planned. This spring, perhaps in April, I am hitting the road to visit by brother-in-law in Alabama. Going there, I will make the 12 hr. journey in one day, spend a couple days visiting, and on the way back split the ride into 2 days and give myself time to enjoy the scenery. Gotta get the bike serviced, purchase some foot pegs, and perhaps get some padding for my seat. I'll be sure to take some pictures and share them with ya.

Annual Red Springs Toy Run
Coming Sat. Nov. 8, 2008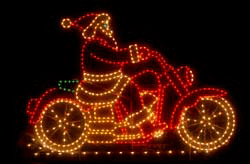 It was almost a year ago with my fresh new ride when I ran into a Toy Run. I stopped at an intersection and suddenly 5 bikes rode across. Four of them were riding side-by-side as though pulling a sleigh, and sure enough there was the trike at the rear with Santa.
With a blip of his throttle he waved at me to join the team, so I rode behind them for about a block until I passed santa with a smile and pulled in front of him. That was cool.
Now, this November, is an annual Toy Run in Red Springs, NC. with a few more bikes than that first Toy Run I experienced. The poster I've read taped onto a store window stated an est. 500 riders. I plan to be there.
Annual Red Springs Toy Run
Sat., Nov. 8, 2008

Meet: Red Springs Fire Dept., Main St.
One new unwrapped toy or cash donation
9am gather. Kickstands up at 11am.
All you can eat pancake breakfast.
Masonic Hall, Marlboro Ave., Red Springs
7am - 11am
$5.00
910-843-6131
Chaps Bar & Grill
July 23, 2008
Yeah, I've been in The Dog House. I've been in Suck Bang Blow. These are HUGE biker bars with live bands and great drink and food. Had a great time while there, but they are a fair distance away from me and sometimes the ambience inside can be overwhelming. They just seem too... commercialized. Where does one one go for a quick ice cold beer and a great chat?
My neighbor Don and I took a quick ride one evening and he introduced to me a small biker bar out in the middle of nowhere: Chaps. Located on Chickenfoot Rd. in Grays Creek just southeast of Fayetteville, NC, it reminds me of one of those poney express pit stops back in the cowboy days. A place where you can park your iron horse and have a cold one. Okay, maybe two cold ones.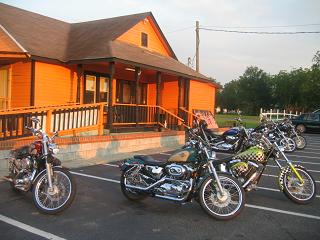 Riding up to it, Chaps bright orange exterior grabs at you and you are compelled to stop there. Compared to The Dog House and especially Suck Bang Blow, Chaps looked small yet welcoming with the 6 or 7 bikes parked outside. Classic rock music can be heard from inside after we cut our engines off and dismounted our steeds.
Stepping inside, I was immediately reminded of a small typical bar in my home state of California. The screen door behind me slammed hard making me jump, and I heard someone inside say "We really need to get that fixed". In the center of the room was a U-shaped bar that sat about 12 people, and serving drinks was a beautiful bartender with a large bottle opener sticking out of her rear pocket.
I sat on a stool next to a large biker with tree trunks for arms, and I ordered myself a brewsky. The conversation between the patrons was light and jestful, and it really felt good sitting there listening to their playful jabs and local gossip. Come to find out, the biker with the tree trunk arms was the bartender's husband. Jim was his name, and her's Regina.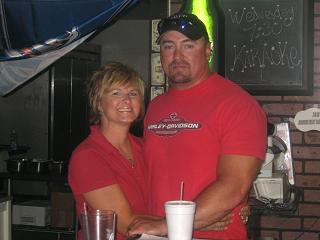 Regina & Jim
Jim filled me in with a bit of Chaps history. Chaps is a fairly new business having opened up back in Feb. 2008, and they started with a big bang with a live music event. I glanced around the room after he shared that bit of knowledge. There was a single pool table to the side, and several tables and chairs to occupy the patrons once the bar stools were filled up. A jukebox was nestled in the corner pumping out Fleetwood Mac at the time. The walls were not overly decorated, with only a few pictures of bikes and some smaller photographs of various people.
I finished my beer(s) and thanked Jim and Regina for the conversation. Stepping outside, the screen door slammed behind me and with the sun dipping below the horizon, I mounted my steed and fired her up. Yep, I thought to myself. I found my very own poney express stop. And I liked it.
If you are in the area, stop by there sometime. And spread the word. This is one gem of a bar that I want to stick around.
Jim
Chaps Bar & Grill
4351 Chickenfoot Rd., Grays Creek, NC 28348
910-426-0555
Found Myself a Nasty Little Mistress
July 13, 2008
Forum Alert! I gain a lot of knowledge about my 800cc Suzuki Volusia at the Volusia Riders forum, and this includes the newer fuel injected C50 version introduced back in 2005. But there are times when I come across a post that offers an introspective not about the machine, but of the ride itself. Here is one posted by Cruiser2007 that shows why the Volusia/C50 bikes are a joy to ride: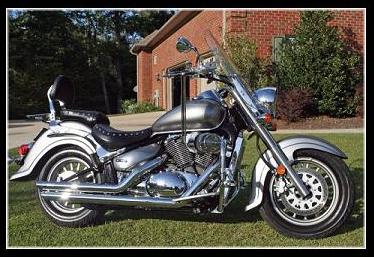 I found myself, or should I say rediscovered, a nasty little mistress tonight. One that will do all the things that I don't want mama to know I'm doing when I just wanna have fun!
After only riding the new Ultra Classic for the last 4 weeks and putting 2000 miles on her, I took the C-50 out for a ride. She used to feel so big. Now she felt like I was hugging my 3 year old as compared to my wife. I don't remember her feeling that small, but it was kind of nice. I started her up. Wow, I forgot how good those Cobra's sounded. I cracked the throttle a bit. She screamed at me. Gotta love a nasty woman.
I threw her into gear and off we went. Suddenly I loved the wind in my face that I used to hate when it was buffeting my head at 70 miles an hour. I forgot how good it felt on a cool evening after a hot, humid day in the south. I'm shifting into 5th gear so I must be doing 75, right? I'm flying. I love going so fast. I look down at the speedo. 50? But it feels so much faster than that. I kinda like it. On the Ultra, I never feel like I'm flying. I never feel much of anything. For the long haul, she can't be beat. But for a fun roll around town, give me back my C-50!
My favorite S Curves are coming up. I blip the throttle and gear down. The Cobra's protest. God I miss that sound. Is that the same sound I used to hate after an hour or two? It's gotta be, doesn't it? Those pipes grate on every nerve! No aggravation tonight though as she sounds so sweet as she purrs underneath me. She's alive and letting me know it. As I accelerate through the first curve, I feel every bump, the bike underneath me squirms a bit on the rough road. I feel everything. I'm riding and I know it. I can feel it in the seat of my pants. The other lady doesn't give me anything in return; she just goes where I point her like she's not even interested, doesn't care what the road has to offer. But not this one; she wants to fight a bit, protest, pretend she doesn't want to do what I want her to do unless I make her. I kinda like a feisty woman that makes me work for it. Makes me feel a bit on the edge again. It feels good.
I know all the things I love about her irritate me after awhile, but for a wild night on the town, she's the best.
I was going to sell her, but tonight, she changed my mind. Every man needs a mistress for some innocent fun every now and then. I realize I can't live with her on a daily basis, but when I need some fun, she's still the best mistress I could ever hope for. She might not be my wife anymore, but there's still something about her I love.
She also brought a smile to my face because we had a little secret. Every now and then a Harley rider would pass us by and we'd wave. A few of them just snubbed their noses at us and didn't even give us a glance. We smiled because we knew our dirty little secret. We have one of those back home in the garage. But tonight we we were having more fun than they were. And it's all about having fun, isn't it? Maybe when I take the wife out, we won't wave at the older Harley's, the not so shiny Harley's, the non-baggers, or anything less than my wife. Naaaa, I think we'll just keep on waving at everyone regardless of what they're riding. After all it's about the ride, not what you're riding. On two wheels, we're all in the same class except for the few that haven't figured that out......yet.
Myrtle Beach Bike Week
May 28, 2008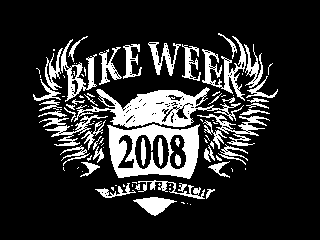 It was a great ride to Myrtle Beach Bike Week a few weeks ago. I originally had two riding buddies who were to ride with me, but they chickened out so it turned out to be a solo ride. I only had that Saturday to ride there, and I made the best of it.

Don, a neighbor of mine who owns a Harley Roadking, also owns a trailer at Holden Beach and as he planned to be at his docked boat, he invited me over on my way to Myrtle Beach. I headed that way down hwy 211 out of Lumberton. Upon arrival at Holden Beach, I couldn't locate his trailer, and he didn't return my cell call, so I headed south on hwy 17 toward my first destination: The Dog House.

There were many bikes on the road of all makes and models, but Harley Davidson ruled as they outnumbered the metrics greatly. Riding behind and at times next to them, their thunderous exhaust made my Volusia sound silent. I found most Harley riders polite with achnowledged waves as I rode near them, not at all the steriotyped snobbish attitudes I have read about.

Upon reaching the South Carolina border, the majority of riders rode into the visitor center and took off their helmets to accomodate the lack of a no helmet law. The feel of the wind blowing my hair back gave great temptation for me to do the same, but I remember that one time over twenty years ago when I laid down my Nighthawk 650. My helmet saved my noggin from becoming swiss cheese. So, I resisted the temptation and continued into Myrtle Beach with helmet fully fastened.

I finally spotted The Dog House on the left with a huge assortment of bikes parked around the building. I rode into the parking lot and was directed to a space behind the building. Through my helmet I could hear the tunes of classic rock as I rode past and found my parking spot. Parked nearby was a lone black Suzuki C50, with most other bikes being, of course, Harlys.

I walked around to the front of The Dog House and ran into a sexy waitress wearing practically nothing but a bikers vest and chaps. She spotted me and said: "Looks like you can use a cold one! What would you like?" Well, yes I could use a cold one. Ordered a Bud Light and with beer in hand, I began further exploring.

I walked through the building past the bar and entered the back area. An empty stage greeted me, but the loud recorded music sounded great. It was only 11am at the time and the party is only starting. I turned right and spotted the many venders there, including the shirt vender where I purchased my two Bike Week shirts.

To the side I heard the sound of a motorcyle reving loudly with cheers from a crowd, and upon investigating I saw a rider doing some stunts in a roped off area. I was amazed at one particular stunt where the rider braked and flipped off his bike over a parked bike in front of him and landed on his feet on the other side. Wow!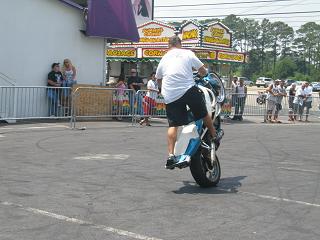 Once my beer can was empty, I mounted my Volusia again and headed south toward my main destination: Suck Bang Blow. By now the roads were packed with bikes going both directions. Travel slowed down as traffic became conjested. I breafly stopped at a Hardies to fill my belly and continued on.

Finally, after what felt like a long time cutting through Myrle Beach traffic toward its southern outreach, I arrived at Suck Bang Blow. I was blown away by the sheer number of bikes parked around the large warehouse sized building. Following a line of bikes to the parking area, I was directed to a parking spot around the building. I pulled up to a line of bikes next to the the building in front of a large vent-like construction on the outer wall. As I cut off my engine and slid my tired buns off my seat, the loud sound of an unmistakable Harley roared from the wall next to me, and pouring out of the vent came pitch white smoke that quickly engulfed me. Come to find out, there is a burn pit where bikers can burn rubber inside to contest the loudest engine.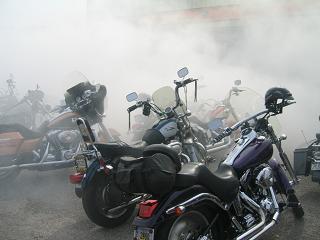 Blinded for a moment, I made my way out of the fog and reached the front of Suck Bang Blow. Live music filled the air as I entered the darkened room. I'm going to stop here and not describe what I found inside. It's something you need to see for yourself.

A couple of hours later, I found myself heading north toward home. I've seen several bikers down that day with word of a fatality and I am quite happy I decided to keep my brain bucket on. Upon reaching my house I looked at my odometer. It turned out to be a 350 mile ride that day, my longest to date.

I look forward to my next ride to Myrtle Beach Bike Week this October 2008, but it has got to be an overnighter. I can only imagine what the night life is like!

Jim

Myrtle Beach Bike Week Next Week
May 6, 2008

A couple days from now begins an event that I've been waiting for since I've first purchased my Volusia: A ride to Myrtle Beach during Bike Week. I've never been to a bike week before, so I am anxious to get this experience under my belt.

My main goal is pure exploration with a lot of riding, with a stop at the highly rated biker bar called the Suck, Bang & Blow and the Dog House. I'll be sure to carry a camera, so come back in a few weeks to read about this highly anticipated motorcyle adventure.

The Waccamaw Ride
March 21, 2008

With winter passing behind and spring approaching fast, I finally got my Volusia serviced and had the valves adjusted. I purchased and mounted a passenger sissybar for my 11 yr old daughter Megan and bought one of those spiffy Modular helmets for her.

As the weather warmed, I rode around locally alot and explored the North Carolina country around me, but soon it was time for a more extended trip... such as... er, um 45 miles or so. Okay, so that's not all that far, but it was an exciting ride to beautiful Lake Waccamaw with Megan.

I've been through Lake Waccamaw before, but they were business trips and I had yet to fully explore it. We rode out that day toward the nearby town of Whiteville taking the backroad called Old Whiteville Rd. It was in the mid. 60's and the wind chill still had some bite to it, but both of us were bundled up in jackets and gloves and the ride to Whiteville was comfortable. Once we arrived in Whiteville, we stopped for lunch at a Sonic drive-in and wolfed down a burger. Upon leaving, we headed toward Lake Waccamaw only 15 miles away.

My home town of Merced, California has a man-made lake called Yosemite Lake. Lake Waccamaw's huge size dwarfed it as we approached. We rode clockwise along the 14 mile shoreline passing the many lakeshore homes. The homes soon thinned and we finally reached the Lake Waccamaw State Park at the far side.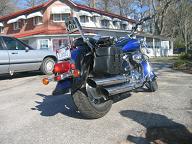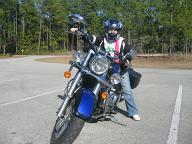 We pulled up to the visitors center and checked out the museum. A stretch of the legs were in order, so we embarked upon a journey down one of the many trails. Over time, the weather warmed up as we walked through the beautiful landscape. I don't know how far we walked, but it seemed like miles before we returned to the visitors center.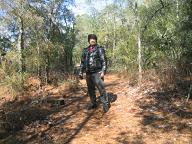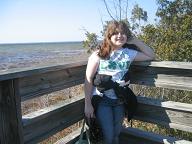 After a short rest with a gulp of cold soda, we were ready to ride again. We did some more exploring around the lake, but eventually the sun began to dip so we headed home.

It was a great ride, especially with my daughter there to share it with me. Now all I hear from her is where she wants to go next, which is Myrtle Beach. I'll save Myrtle Beach for bike week, but I plan on taking her for our next big trip to a more remote location on the North Carolina coast: Sunset Beach.


No Rules Riders
Feb. 12, 2008

With the weather warming up, I've been seeing a lot more bikes on the road. More often than not it is a single rider, but occationally I see a pack of 6 or more with a club logo on their back. I often thought about joining a bike club, or even starting one, but I don't have an appetite for meetings and rules. I just want to ride with a few friends and share the experience.

Then I ran across a site called No Rules Riders. As stated on their site:

NO RULES RIDERS is NOT a Motorcycle Club. It is people who like to ride for the freedom of riding. That's it, plain and simple. THE NAME SAYS IT ALL

People already have too many constraints and responsibilities in their lives. The purpose of NO RULES RIDERS is to provide the opportunity for freedom from rules, meetings and structure. There are no officers or rank of any kind. It is just people getting together to ride. With NO RULES RIDERS, you can make it what you want. You can meet up with others that are connected through this web site.

NO RULES RIDERS will enable you to not only connect with people in your area who like to ride, but through this web site you can connect with people World Wide. When you go to bike rallies in other cities, states, and countries you will be able to meet up with people who have the NO RULES RIDERS attitude of "FREEDOM".

Remember there are NO RULES, so you can be a part of NO RULES RIDERS by simply saying that YOU are a NO RULES RIDER.

Hey, this is exactly what I had been looking for! I do have a couple neighbors and buddies who ride. Perhap, just perhaps, I may start a No Rules Riders group in my area.

Chilly Bike Run: Too Cold For The Locals?
Feb. 5, 2008

With the roads clear, and the temp. a chilly 34 degrees, I rode my Vol. to Pembroke which was only 15 miles away. Bundled up in layers, the ride was chilly but not bad at all. I just needed to be aware of ice on bridges and overpasses.

Arrived at the meeting place in one piece, but I was the only rider there. Walked inside the mini-mart and found out that the ride was cancelled due to cold weather. The "rain date" was scheduled on Superbowl Sunday, but as the only one on my block with a 52" HDTV, I had commitments (great game, BTW).

Shaking my fist in the air, I screamed: "Curse you, Mother Nature!"

Now that it is Feb., the weather is warming up. Yesterday, I rode about town after work as I enjoyed the 68 degree weather. Here in N.C., Feb. can flip-flop between cold and warm. Spring is just around the corner!

Crazy Weather: Chilly Bike Run Is On
Jan. 20, 2008

It did snow yesterday evening, but this morning the sun is out. The roads are clear and it's warming up. I'm going!

Not Going On Chilly Bike Run
Jan. 18, 2008

Ack! Sleet & snow is forcasted Jan. 19 & 20. In fact, they already salted the roads in anticipation, so I will not be riding that day.

The rain date is Feb. 3, but I doubt I'll be riding that day as well. It's Superbowl Sunday!

Upcoming Chilly Bike Run
Jan. 17, 2008

Ran across a local flier about a bike run this upcoming Sunday with proceeds going to help pay for someone's medical bills. Don't have all the details, but I do know that it is projected be a chilly 34 degrees +/- that day.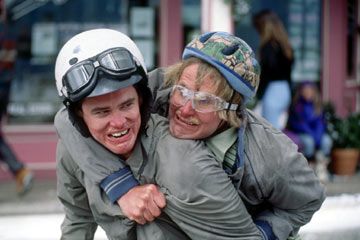 Sunday, January 20, 2008
Registration 1pm - 2pm $10.00 per rider
Kickstands up @ 2:30
Meeting place: C&P Mini Mart located on Union Chapel Rd., Pembroke NC.
Riding to Riverside Independent Baptist Church located at 3644 US Hwy 74 West, Lumberton, NC for door prizes & food.
Rain date: Feb. 3
I'll fill you in on the experience after I break the icicles off my mustache.
Serviced The Vol
Jan. 12, 2008
I was washing my '02 Volusia the other day, and decided to take off a couple side covers and do some exploring. It was then that I discovered that the coolant tank was bone dry. I remembered asking the dealer if the bike was fully serviced and he said it was, but I suddenly realized that there were no service history with the bike.
I went ahead and topped off the coolant. Then, I changed the oil and oil filter. Glad I did too, because the old oil was black as tar and old looking. I popped off the seats and tank to gain access to the spark plugs and replaced those as well. While I was there, I checked the coolant in the radiator and all was well.
Bike feels like it has more gusto now, and I feel better riding it knowing that it has fresh oil and plugs. The next thing I need to do is have the valves checked and adjusted. I havn't decided if that's something I can tackle myself. Chances are, I may take it in this spring and have it done at the Suzuki dealer.
Meanwhile, I plan to stop by the Yamaha dealer who I purchased the bike from. Got some choice words for him.
Are You A Real Biker?
Dec. 31, 2007
Ran across an interesting motorcycle site called whybike.com, and there is a short quiz you can take to find out what kind of biker you are. Took the test, and...
You live in the wind. You could be at home watching far off destinations on TV but you prefer to discover your own. You cross state lines like most people cross the street. When stuff happens people look to you for answers. You are a wiz with duct tape and bailing wire. Riding is not just a diversion but a way of life.
There is more at this site than just a quiz. Check out whybike.com for some great articles on biking. Yeah, it's got videos too.
I Joined Santa's Reindeer!
Dec. 23, 2007
Yesterday I installed my windshield and after a few height adjustments I rode my Vol into town for a short ride. It wasn't cold, being in the upper 50's, but I wanted to be ready for the Jan/Feb cold snap here in N.C.
Upon coming to a downtown crossroad, a pack of bikes came roaring across. There were 5 of them: A Harley, Honda, 2 Yamahas, and a black & gray C50. Following close behind was Santa riding a trike!
I followed behind for a few blocks, and upon seeing me Santa waved at me to join the pack. With a blip of my throttle I passed him by and joined his reindeer in front of him. I had no idea where we were going, but the waves of passer-bys and honks of vehicles around us was excellerating!
We eventually left town and hit a country road toward a small town called Pembroke. 20 miles later, we pulled into Carter's childrens home and the kids came running out as we parked in formation. They were all over Santa and his trike, and after some time of picture taking we went inside where we sang christmas songs and ate some cake. Suddenly, Santa reappeared with bags of toys for the kids. If you could have seen the looks on their faces, I was quite moved.
That was my first toy run, or any kind of charity run. I've only had my '02 Vol. for a couple months now, and now I am intent on keeping an eye out for any kind of charity rides. It was quite an experience!
Merry Christmas!
Jim
The Carolinas Full Throttle Magazine
Dec. 12, 2007
Riding has been great this past month. I've been hitting the country roads and riding through Pembroke, Rowland, Fairmont, and of course Fayetteville, NC. A work buddy and I even rode up to Pinehurst one saturday. What a great ride it was.
A neighbor of mine who owns a Harley Roadking gave me a local rag called Full Throttle Magazine. Inside are various motorcycle related articles, but what caught my attention was the riding calandar. It lists local (NC) rides and events that you can participate in, and you can submit a ride your group had scheduled.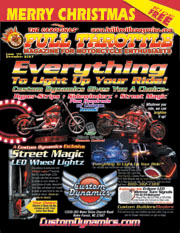 Full Throttle Magazine seems geared for Harley Davidson owners, but not entirely as I've seen some articles concerning metrics. Regardless of which bike you own, the mag. is free and makes good reading. The most likely place to find it would be at your local Harley Davidson shop, or you can check out their web site at www.fullthrottlemagazine.com.
Until next time, Merry Christmas and ride safe!
My First Ride
Nov. 24, 2007
The owner of the local Yamaha dealership retrieved my newly purchased used 2002 Suzuki Volusia from his service area and brought it out front where I was waiting for it. After securing my helmet and donning my gloves, I flipped my leg over its seat and pressed the ignition button. It started right away with a nice, smooth thrumming sound.
The owner asked if I had ridden before. I did, 20 years ago in San Diego on a Honda 650cc Nighthawk. This Volusia had more gusto with its 805cc, and I was anxious to see what it would do on the road.
I thanked him, and slowly let out the clutch lever. The engine died. Ooops.
I cranked it up again and nervously grinned. Though I did complete the Motorcycle Safety Foundation course last month, this will be the first time I rode a bike in traffic for over two decades. I was apprehensive, but I rev'ed the engine a couple times and the Vol spoke to me with its thrumming pipes. The sound calmed my nerves, and I once again slowly released the clutch lever, with a bit of throttle this time.
I began my first ride, which was immediatly home for two reasons: A) I wanted to show off my "new" bike to a few neighbors, and B) I wanted to take off the windshield. The windshield was small and created a bad buffeting effect that drew me crazy. It had to go. I could always get a larger shield down the road if I wanted one.
I slowed down, took it slow and easy all the way home, and parked it in front of my house. After showing my Vol to my family and neighbors, I removed the windshield and once again fired her up. She started right away and I rode her out.
The one hour ride that followed was an experience I'll never forget. My previous riding experience was in southern California amongst the crowded traffic of San Diego and L.A., with aa occasional ride through regional flat deserts.
Here, in North Carolina, the country roads made for great riding. The traffic was sparce as I cranked the speed up to 55mph, and in no time the bike became a part of me. It maneuvered great around the curves as I followed the country road through the woods. The land would open up now and again to reveal open fields and ancient homes, only to be swallowed up again with woods that shaded the road.
I finally noticed a chill as the temp. began to drop through the evening and headed home. Yeah, I got my bike just as winter approached, but that's okay. There are a few things I'd like to do to her before the spring arrives, and I can still take her out for a chilly ride every weekend.
I finally got my bike, and she is perfect in every way. But then again, there is always the D.J. Hillis Drive Mod. Hmmmm. With early nights, there is some lighting mods I'd like to do. Oh, and there's that larger windshield too.
*Checks wallet* Ack!
What's A Volusia?
Nov. 20, 2007
As I was waiting for the price of my Boulevard C50 mototrcycle to drop during the upcoming cold months of winter, an exciting encounter took place. It happened a short week ago while driving past a local Yamaha dealership. There, with some other used bikes ouside their doors, was what looked like a used C50!
I parked and walked up to it to check it out. It was not the Boulevard C50 that I wanted, but something even better! A 2002 Intruder VL-800 Volusia! What's a Volusia, you say?
A Volusia is the predecessor of the C50 which took its place back in 2005. Identical in every way, except for some technical differences such as fuel injection, and named after Volusia County in florida, it was Suzuki's best selling cruiser.
This 2002 black & blue Vol was fully stocked with a lightbar, windshield, and saddlebags. The bike looked clean and well kept with no scratches, and best of all was it only had 6,800 miles on it and costs half as much ($3,500) as the 2007 C50 I had wanted earlier.
I'll be picking the bike up today. Come back soon to read about my first ride on this Volusia. It's gonna be a blast!
MSF Course Completed
Oct. 29, 2007
Hey, that wasn't so bad. There were 5 of us students and 2 instructors, a small class compared to the 12 - 18 usual class size.
Fri. evening began with videos and a lot of bookwork. Saturday morning, we walked to the school's bike shed and I was issued a 200cc Suzuki dirt bike. Yikes! Skinny and top-heavy, I knew it was going to be a challenge as I never rode one before. They did have some 250cc street bikes similar to my old 650cc Nighthawk I used to ride back in the 80's, and though I tried to swap my dirt bike for one the instructors was dead set in making me ride the dirt bike.
Though the pavement was wet from rain the day before, it didn't rain that saturday. We began some basic riding skill events. Powerwalking, stopping, etc. Then came the turns & swerves. The dirt bike actually made it easier for me to make the short figure-eight type box turns. After a long day of riding around cones in a parking lot, the class ended and this tired old body was ready for some sleep.
Sunday morning I was up early. I didn't study for the upcoming written test the night before, so I went to a Waffle House and after a good breakfast with lots of coffee, I studied for about an hour and headed back to class. The written test was laying on my desk when I arrived and we knocked it out first thing. Very easy. Aced it.
Then, back to the parking lot. We did some advanced rider training such as sudden swerves and curves, including riding over a block of wood. The dirt bike felt more comfortable now and I began to relax and have fun.
After lunch, it was time to do the riding skill test. Sudden stopping, swerves, u-turns, and curves. I admit I was apprehensive, but I survived with only one stike against me because of a deceleration/acceleration during an outside-inside curve maneuver: -5 points.
At the end, I passed and received my MSF cards, a patch, sticker, and some Geico insurance promo stuff. One of the students failed the riding skills test.
I believe the course may help save my life someday, and if you had not taken it, I highly recommend it. I learned a lot, and I know you would too. Another bonus of completing the course is not having to take the DMV riding skill test (still need to take the written test) and there is a 10% discount on participating insurance companies.
Ride safe!
MSF Course Update
Oct. 25, 2007
The course was cancelled last weekend due to not enough students, and was pushed back to this next weekend. A shame too, because the weather last weekend was beautiful. Rain is in the forcast Fri. & Sat. this weekend during the course. Come back soon to read my write-up on it.
MSF Course Written Test
Oct. 10, 2007
With the 3 day Motorcycle Safety Foundation course a week and a half away, I decided to take a closer look at their official site. There is more info there than I first thought! There are details on what to bring/wear, a break down of topics covered, and a review of the written test.
Take the sample test online and see how you'd do. Okay, I missed 4 of 48. Not bad for not covering the material, but most questions are common sense.
Motorcycle Repair
Oct. 9, 2007
I'm an artist, I believe. I wrote a novel. I draw. I paint. I like to create. But to put food on the table, I have an alternate skill/occupation as do most artists. I am a copier/facsimile service tech. That's my job. It's what I do. But, I know nothing about motorcycle repair.
There will come a time when I may become stranded somewhere on my bike, or perhaps I just cannot justify paying a dealership several hundred dollars for service that I may be able to do myself at a fraction of the cost. Thus I will need to learn some basic motorcycle repair skills.
The first step is to brouse through the Volusia Riders forum for tips on service. A forum search for a particular problem will most likely yield a solution. Then, there are sites that do a great job with introducing you to maintenance and repair, such as Dan's Online Motorcycle Repair Course.
Chances are that I will not need to work much on this Boulevard C50 after I've put some miles on it, except for the basic maintenance to keep it running smooth. My research shows the C50 to be a solid well made bike with little problems, outside of an ignition switch and wiring problem that occured in earlier models (05/06).
Breaking It In
Oct. 4, 2007
No, I don't have my C50 yet. I'm looking at Jan. 2008, no later than March 2008 before I can get my ride. But, I did run across an interesting site regarding breaking in a new bike at Mototune USA. Something to consider. Check it out.
Addendum: Another write up on breaking it in at Dan's Motorcycle Repair Course. Which is right? Perhaps somewhere in-between.
Got The Links Up
Oct. 3, 2007
To the left I placed misc. links to sites of biking accessories. Most have been recommended by riders at the Volusia Riders forum.
Before purchasing something online, check around your area first and support your local dealer. In my case, I wanted to purchase a leather jacket, and I did see a good price for one online, but I decided to check around town first. Some places were very expensive, but I found a great genuine leather riding jacket at a local store called Booty Brothers. They specialize in boots, and they also stock leather bike gear. The $50 cost for a leather jacket was a steal. I'm getting my chaps there next.
Booty Brothers
3470 Capuano Rd.
Lumberton, NC
(910)739-8923
Itching To Ride
Sept. 29, 2007
Geeze. Building a shed is tough, especially on the pocketbook. And I have 2 of these to build. Half way done with a main shed, and then I begin my bike shed. Woot!
Scheduled for the Mototcycle Safety Foundation (MSF) rider's course in late Oct. through my local college. A friday evening of bookwork with all day Sat. & Sun. riding the course. Can't wait!
Speaking of safety, while brousing through a motorcycle forum I ran across a link to some great words on Motorcycle Commuting Survival Strategies. Really makes you think. Check it out.
There She Is!
Sept. 8, 2007
A couple of decades ago, I owned a Honda Nighthawk 650cc motorcycle while living in San Diego. The bike and I parted after a few years, but what a time I had while riding this nimble bike.
Flash forward to today. The itch to ride again has taken hold, and I commenced to search for my new ride. I decided to upgrade to at least a 750cc and began my research. My first thought was a Honda Shadow, so I paid the local Honda dealer a visit. Once there, I admired the Shadow's looks. I flipped my leg over the seat of one and tested the feel. Nice, but the seat didn't feel right.
Across the showroom to my left sat a black bike that screamed for me to look at it. Stepping up to it, it looked vastly different than the Shadows. It had classic cruiser written all over it. Looking at the logo on the shiney tank, I saw the word Boulevard, and on the side cover displayed the model# C50. No indication of the cc engine size though. Probably in the 1400cc range, I thought. Too big. Too expensive.
She screamed at me to have a seat though, and upon sitting on it, everything about it became perfect. The looks. The feel. All of it. I signaled a roaming salesman and asked him what size this bike was: 800cc. Cost? $6200. Comparable to the Shadows I was looking at previously.
This is it! I identified my bike make/model, but much to do before I can own her. Study up on this bike, take the MSF Riders Course. Purchase my gear. Build a bike shack to house her in. Take a few months through winter 2007 to save up a down payment (unless a great off season deal presents itself), and I can own her early 2008.
Meanwhile, I'll be placing links (left) to various sites of interest regarding the Boulevard C50. Expect updates on my motorcycle adventures as they happen.

Expect some riding videos. Until then, watch the Oregon Dairy Ice Cream Ride by Southern Cruisers Riding Club, Lancaster-Lebanon Chapter #289.
Jim (aka Reptor7)