Latest Release
Star Quest Saucer & Robot addon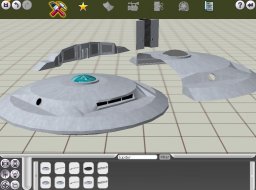 Star Quest Saucer & Robot
Installation: Click image to download addon file and save it somewhere. Now start the Moviestorm program and when the front page comes up, click on Settings and down the bottom should be Install. Click on that and find the addon then click on that and it then should self install. Good luck.
Moviestorm Props
Shortfuze, the creators of Moviestorm, are hard at work developing new addons for Moviestorm movie makers. Slowly, but surely, Moviestorm community modders are creating their own props for everyone to download and use in their movies.

These props on this page are created with Google Sketchup by Hursto Presto Studios (reptor7) and are free to use.

For more free community props outside of Hursto Presto Studios, check out the Moviestorm Mod Forum. There's a lot of great stuff there to download.